About Century 21® Zaytoun-Raines Real Estate
In 1986, George Zaytoun and Marvin Raines combined their expertise to create what has become one of the area's most successful Real Estate Companies. George Zaytoun, Sr. continues to build "Award-Winning, Distinguished Homes of Quality.
www.zandrconstruction.com
Selling a Home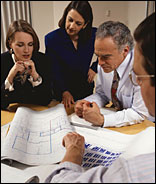 For more than 25 years, the CENTURY 21® System has been helping people sell their homes.  We understand the selling process and have designed the CENTURY 21® Customized Marketing System to assist you in differentiating your home from others in your marketplace. This marketing system will help alleviate any anxiety you may have about selling your home and guide you through the selling process. Our CENTURY 21® Customized Marketing System will show you all the enhanced marketing support and customer convenience services the CENTURY 21® System can offer you.
Buying a Home
If you are searching for your next home, take a look at what a CENTURY 21® Buyer Representative can do for you.
1.
The CENTURY 21® Customized Home Search System for Buyer Representation is designed to provide you with a full service, anxiety-free real estate experience. We will deliver a level of service unmatched in the real estate industry.
2.
The CENTURY 21® Customized Home Search System answers all of the questions and concerns that buyers are challenged with when purchasing a home. Let us show you how easy your real estate purchase can be.
3.
The CENTURY 21® Customized Home Search System offers proprietary marketing tools to provide you with superior service when purchasing your home.
Relocation
CENTURY 21 Zaytoun-Raines has the power to help you buy or sell your home as part of one of the largest residential real estate sales organization in the world with more than 6,600 offices and 110,000 real estate professionals in more than 30 countries and territories. That means CENTURY 21 Zaytoun-Raines  will have the power to help you move across town, across the country or around the world. The CENTURY 21® System offers you and your family real estate assistance in marketing your current property as well as helping you settle in your new location as conveniently and quickly as possible. * Source 2007 Ad Tracking Study. The survey results are based on 1216 telephone interviews (via computer assisted program) with a national random sample of adults (ages 25-54) who have either bought or sold a home within the past two years or plan to purchase or sell a home within the next two years. Brand awareness questions are based on a sample of 1216 respondents with a margin of error of +/- 2.4% at 90% confidence level. The study was conducted between February 19th – October 7th, 2007 by Millward Brown, a leading global market research organization.
CENTURY 21 Zaytoun-Raines 
CENTURY 21 Zaytoun-Raines serves New Bern, Havelock, Pamlico, Jones and surrounding areas. We are located in the heart of the Historic downtown New Bern North Carolina. New Bern is rich with tradition, yet vibrant and growing, and filled with small town charm with city conveniences.
We offer to our Sellers:
33 agents – On call 24 hours a day
20 have earned distinguished GRI designation
2 REALTOR® of The Year Recipients
Full time support staff with over 50 years real estate experience
Emphasis on Professional Customer Services
Client Coordinator System which matches property inquiries to the best source of information.
Window Vision System (Exclusive to us) Listing information available 24/7 through streaming video
Showing Response Forms sent out on all showings
Full service Construction Department www.zandrconstruction.com
Nationwide/ Referral/ Relocation Network
Repeated recipient of CENTURY 21 Quality Service Award
Repeated recipient of CENTURY 21 CENTURION Award
Company website on Kiosk at New Bern Area Convention Center
Extensive Web Exposure on hundreds of high profile real estate sites
In 2012 we started a property management division entitled "New Bern Rentals"  which exploded to almost 100 rentals the first year.  Find out why we stand out above the competition.
View Larger Map