New Bern North Carolina
and Surrounding Area Attractions

Tryon Palace Historic Sites and Gardens
Pollock and George St's.
(252) 514-4900
(800) 767-1560
Tryon Palace, built in 1770 by Colonial Gov. William Tryon, was known at the time as one of the most beautiful buildings in America. The elegant, Georgian-style mansion is mostly a reconstruction of the original building that stood at the same site. After its use both as a colonial and state capitol, the palace fell into disrepair. When reconstruction was undertaken in the 1950s, only one wing — the stables — remained standing. The palace now houses an outstanding collection of antiques and art, and the grounds are devoted to extensive landscaping, ranging from English formal gardens and a kitchen garden to wilderness garden areas.

John Wright Stanley House
307 George St
(252) 514-4900
(800) 767-1560
On his Southern tour in 1791, President George Washington dined and danced at Tryon Palace, but his two nights in New Bern were spent at the nearby home of John Wright Stanley. Washington described his overnight accommodation as "exceeding good lodgings."


Dixon-Stevenson House
609 Pollock St.
(252) 514-4900
(800) 767-1560
Erected in 1830 on a lot that was originally a part of Tryon Palace's garden, the Dixon-Stevenson House epitomizes New Bern's lifestyle in the first half of the 19th century, when the town was a prosperous port and one of the state's largest cities

Attmore-Oliver House
511 Broad St.
New Bern, NC.
(252) 638-8558
Built in 1790 by prominent New Bernian Samuel Chapman, the Attmore-Oliver House today is the home of the New Bern Historical Society and the New Bern Preservation Foundation. It was enlarged to its present size in 1834 and houses 18th- and 19th-century antiques, a doll collection and Civil War memorabilia. Of particular interest is the fine Greek Revival portico and two-story porches at the rear of the house. It is open seasonally Tuesday through Friday from 1 to 4:30 PM and closes from mid-December until the Spring Homes and Gardens Tour weekend in early spring. Otherwise, it is shown by appointment. The house may be reserved for private functions and is not handicapped accessible.
.

  Walking Tour Attractions 
Walking will give you a real sense of the many Old World customs that characterize this Colonial town. Self-guiding brochures are available at the Craven County Convention and Visitors Bureau, 314 Tryon Palace Drive. Guided walking tours, organized by New Bern Tours, (252) 637-7316, for six or more people, depart from the Commission House across from the Tryon Palace gate. A few of the more notable residences and buildings are listed here.
The John Horner Hill House, 713 Pollock Street, is a Georgian period dwelling built between 1770 and 1780. It is noted for its rare nine-over-nine sash at the first-floor windows.
The Henry H. Harris House, 718 Pollock Street, was built in 1800 and is a well-preserved example of vernacular Federal period architecture.
The Anne Green Lane House, 804 Pollock Street, is a transitional late-Georgian-early Federal house built between 1790 and 1800. It was remodeled during the Victorian period.
The All Saints Chapel, 809 Pollock Street, is a good example of Gothic-style architecture. It was built c. 1895 as a mission chapel by Christ Episcopal Church.
The John H. Jones House, 819 Pollock Street, is a small Federal house with an unusual central chimney. Its original separate kitchen remains at the rear.
The White House at 422 Johnson Street is a simple side hall Federal house built c. 1820-30. It is noted for its two end chimneys with a small closet in between.
The Cutting-Allen House, 518 New Street, is a transitional late-Georgian-early Federal side hall house built in 1793. It is considered unusual because of its flanking wings and large rear ballroom. It was saved from demolition in 1980 and moved to its present location.
The Hawks House at New and Metcalf streets offers a side-by-side comparison of styles. Dating from the 1760s, the western part of the house is Georgian, and the eastern section is Federal, added by Francis Hawks, son of John Hawks, architect of Tryon Palace.
The Clark-Taylor House, 419 Metcalf Street, was built between 1795 and 1804. It is one of several gambrel-roofed houses in the historic district.
The Attmore-Wadsworth House, 515 Broad Street, is an unusual one-story Italianate-style house built c. 1855. Several Italianate-style homes are part of the city's historic architecture.
The McLin-Hancock House, 507 Middle Street, is unique for its strict symmetry and diminutive scale.
The W.B. Blades House, 602 Middle Street, was built in 1903 and is noted for its elaborate Queen Anne design.
The Jerkins-Duffy House, 301 Johnson Street, was built c. 1830 and is unusual because of its exterior Federal design and interior Greek Revival elements. It is also noted for its captain's walk and exposed-face chimneys.
The George Slover House, 209 Johnson Street, was built c. 1890 and is an eclectic combination of Queen Anne and shingle-style architecture.
The Charles Slover House, 201 Johnson Street, is a stately brick townhouse built in 1847 that was selected as headquarters by Gen. Ambrose Burnside during the Civil War. C. D. Bradham, inventor of Brad's Drink (now known as Pepsi-Cola) purchased the house in 1908.
The Eli Smallwood House, 524 E. Front Street, is one of the finest of New Bern's Federal brick side hall houses, built c. 1810. It is noted for its handsome portico and elegant interior woodwork.
The Dawson-Clarke House, 519 E. Front Street, was built c. 1808 and is one of several historic homes exhibiting the use of double porches, a popular style in the coastal region.
The Coor-Gaston House, 421 Craven Street, is a Georgian home (c. 1770) built by architect, builder and patriot-statesman James Coor. It was purchased in 1818 by Judge William Gaston and was the scene of the founding of St. Paul's Roman Catholic Church. Gaston was a brilliant orator, lawyer, member of Congress, State Justice and author of the state song.
The David F. Jarvis House, 220 Pollock Street, is a good example of neoclassical revival architecture.
The Edward R. Stanley House and Dependency, 502 Pollock Street, was built c. 1849 in Renaissance Revival style. The cast-iron grills over its windows are unique in New Bern.
The Wade House, 214 Tryon Palace Drive, was built in 1843 and remodeled before 1885 in the Second Empire style. The cast-iron crest on the mansard roof and the iron fence are notable surviving features.

Christ Episcopal Church
320 Pollock St.
New Bern, NC.
(252) 633-2109
Having celebrated its 250th anniversary in 1991, Christ Episcopal Church is the oldest in New Bern and one of the oldest in North Carolina. This is actually the third church building to stand in this area. The first was completed in 1750 and was later destroyed by fire. The foundation of that first church is on the current church grounds. The second church was completed in 1824 and destroyed by fire in 1871. The church you see today was completed in 1875; it is a Gothic Revival building that incorporates surviving walls of that second church. The steeple, with its four-faced clock, is one of the identifying marks of the downtown skyline. Among the treasures on display are a 1752 Book of Common Prayer, a huge 1717 Bible and a five-piece silver communion service given to Christ Church by King George II. Each bears the royal coat-of-arms. To tour the church enter the side door weekdays between 9 AM and 5 PM.

Centenary United Methodist Church
309 New St.
New Bern, NC.
(252) 637-4181
First organized as a congregation in 1772, the current Centenary United Methodist Church was designed by Herbert Woodley Simpson and completed in 1904. Its rounded walls and turrets have an almost Moorish look. Visitors can tour the building between 9 AM and 4 PM weekdays.

First Presbyterian Church
418 New St
New Bern, NC
(252) 637-3270
The oldest continually used church building in New Bern, First Presbyterian was built in 1819-22 by local architect and builder Uriah Sandy. The congregation was established in 1817. The Federal-style church is similar to many built around the same time in New England but is unusual in North Carolina. Like that of Christ Church, the steeple on First Presbyterian is a point of reference on the skyline. The church was used as a Union hospital and lookout post during the Civil War, and the initials of soldiers on duty in the belfry can still be seen carved in the walls. Visitors are welcome to tour the church between 9 AM and 2 PM weekdays
Temple B'Nai Sholem Synagogue
505 Middle St.
New Bern, NC
(252) 638-4228
The stucco, Neoclassical Revival synagogue is a beautiful, uncommon specimen of architecture in the area. A Herbert Woodley Simpson-designed structure, the synagogue was built in 1908 by the congregation that was organized about 1824.
The New Bern Academy Museum
New and Hancock St's.
New Bern, NC.
(252) 514-4900
(800) 767-1560
Founded in 1764 and built in 1809, New Bern Academy is the oldest public school in North Carolina and one of the oldest in America. It was used as a school recently enough to have been attended by some of New Bern's current residents. After it closed, it sat vacant for several decades. In the 1980s, it was purchased and renovated by Tryon Palace and today houses exhibits illustrating the 300-year history of New Bern and eastern North Carolina. The Academy Museum is open daily for self-guided touring. Admission is charged as part of the Tryon Palace Complex admission.
Bellair Plantation and Restoration
1100 Washington Post Rd.
(252) 637-3913
The last and largest brick plantation country house of the 18th century in North Carolina, the Bellair Plantation (c. 1734) is a majestic three-story brick building approached from Highway 43 N. by two long driveways, one lined by lavish old cedars. Georgian handcrafted woodwork greets visitors at the imposing eight-paneled door and continues through the main rooms. Original family furnishings are still in the house, probably because Bellair was specifically guarded from harm during the occupation of Federal Forces during the Civil War by order of Gen. Ambrose Burnside. The written order, dated March 20, 1862, still hangs on the wall at Bellair. The basement holds the cooking fireplaces with crane, tools and ironworks of the period. Forty-five minute tours of the historic site are offered on weekdays by appointment; Saturdays, 11 AM until 3 PM; Sundays at 2 and 3 PM. Tour prices are $10 for adults, $5 for children 12 years old and younger. Group tour discounts are offered.
Bank of the Arts
317 Middle St.
(252) 638-2577
A former bank built in 1912, the interesting granite structure now serves as headquarters for the Craven Arts Council and Gallery. The classical facade of the building features Ionic columns leading into the open, two-story gallery. Detailed pilasters and Corinthian columns have been highlighted by colors in the beaux-arts motif. Changing exhibits of various media — painting, sculpture, photography, pottery, fiber art and other art forms — showcase the work of local and Southeastern artists. Many special events, such as concerts, lectures and receptions, are offered here throughout the year. The Bank of the Arts does not charge an admission fee and visitors are welcome to browse. It is open Monday through Friday from 10 AM to 4 PM. The arts building is handicapped accessible.
Farmer's Market
421 South Front St.
(252) 633-1477
Bringing fresh local produce to downtown New Bern throughout the year, the Farmer's Market is a town treasure operated by the Craven County Cooperative Extension Service. From fruits to flowers and through the range of baked, canned and prepared goods, the Farmer's Market is a favorite stop, but you have to keep the days and hours in mind. From June 15 through September 15, days of operation are Tuesday, Thursday and Saturday from 6 AM to 1 PM. After September 15 and before June 15, the Farmer's Market is open Saturdays only, 6 AM to 1 PM.

Fireman's Museum
408 Hancock St.
(252) 636-4087
The New Bern fire company is one of the oldest in the country operating under its original 1845 charter as the Atlantic Hook and Ladder Company. The restored museum is just behind the fire department's Broad Street headquarters and houses steam pumpers and an extensive collection of other early fire-fighting equipment. Also on exhibit are rare photos, Civil War relics and even the mounted head of the faithful old fire horse, Fred, who, according to stories told by firefighters, died in his tracks while answering an alarm. Retired New Bern firemen are regularly at the museum to tell fire-fighting stories. Museum hours are Monday through Saturday from 10 AM to 4:30 PM, and on Sunday from 1 to 5 PM. The museum is open year round, except for a week around the Fourth of July and a week around Christmas. Admission is $2 for adults and $1 for children. The museum is handicapped accessible.
Cedar Grove Cemetery
Queen and George St's.
New Bern, NC.
If you're one of those people who loves wandering through old graveyards, you'll not want to miss this one. Statuary and monuments beneath Spanish moss-draped trees mark burial traditions from the earliest days of our nation. One smallish obelisk lists the names of nine children in one family who all died within a two-year time span. The city's monument to its Confederate dead and the graves of 70 soldiers are also here. The cemetery's main gate features a shell motif, with an accompanying legend that says if water drips on you as you enter, you will be the next to arrive by hearse.

New Bern Trolley Tours
Tryon Palace, Pollock St.
(252) 637-7316
(800) 849-7316
Touring the town by trolley is a comfortable and interesting alternative to a walking tour if you've arrived without your sneakers. Narrated 1½-hour tours depart Tryon Palace between March 1 and October 31 at 11 AM and 2 PM daily except Tuesday and Wednesday and at 2 PM on Sunday. An additional 4 PM tour is available Memorial Day through Labor Day. Tours or charters for special groups or occasions may also be arranged. Professional guides narrate the tours with attention to historical and architectural interests and spice the narrative with folklore and local knowledge. Trolley tours are $10 for adults and $5 for children 12 and younger. Tickets are sold on the trolley car and are available at Cherishables Gift Shop, 712 Pollock Street, near Tryon Palace.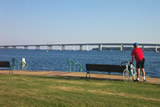 Union Point Park
South Front and E. Front St's.
(252) 636-4660
This lovely waterfront park is often the site of outdoor activities and offers a welcome respite for weary visitors who want to take a load off their feet. Music is sometimes featured here. It is an excellent place to simply sit and watch the world float by. There are lovely river views, and the site is particularly pleasant for evening sunset viewing. On-site facilities accommodate picnicking, boat launching and other outdoor activities.

Croatan National Forest
141 E. Fisher Ave.
(252) 638-5628
Croatan National Forest is an expansive nature preserve bordered by New Bern North Carolina, Morehead City and Cape Carteret. It is headquartered on Fisher Avenue, which is approximately 9 miles south of New Bern just off U.S. 70 E. Well-placed road signs make the office easy to find. Within the forest's boundaries are endangered animals and rare plants. Black bears, otters, deer, raptors and other forest creatures live in this coastal woodland. Insectivorous plants such as the Venus's flytrap, butterworts, pitcher plants, sundews and bladderworts find the forest an ideal habitat and are protected by law. The forest is also well-known for its beautiful wildflowers. Pamphlets on the wildflowers and insectivorous plants are available at forest headquarters, 638-5628, 141 E. Fisher Avenue, 9 miles south of New Bern, North Carolina off U.S. 70 E. Because of the forest's coastal location, many unique features can be found here. Some of the ecosystems present include pocosins, longleaf and loblolly pine and bottomland and upland hardwoods. Sprinkled throughout the Croatan are 40 miles of streams and 4,300 acres of wild lakes.